WEDDING LOCATION
Venice Municipal Beach
W. Venice Avenue
The Venice Municipal Beach is located at the west end of Venice Avenue.
Just left of the main public parking and pavillion area is a small beach parking lot. We will be getting married at the southern most dune access of the beach right off of this parking lot.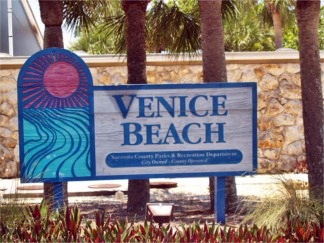 Directions:
To find Venice Beach from Sarasota, follow U.S.41 south into Downtown Historic Venice. Turn right on to Venice Avenue and follow it west and you'll run right in to Venice Beach's parking area.
RECEPTION LOCATION
Venice Train Depot
303 E. Venice Avenue
The Historic Venice Train Depot is located at E. Venice Avenue and Seaboard Avenue.
From the wedding location head East on Venice Avenue, you will cross over a bridge. After the bridge you will make a U-turn onto Venice Avenue (which runs right along side the bridge). Seaboard Avenue will be on your right.